You're probably spending too much time cooped up in your room playing Grand Theft Auto V since getting hold of the game just recently. However, there's this thing called "œlife" that you need to attend to from time to time. If you're having withdrawal issues from GTA V, Rockstar gives you something to do while you're away from your game.
iFruit is a free companion app for GTA V. It's currently available on iOS but will soon make its way to Android devices. This app is an extension of your game giving you the following features: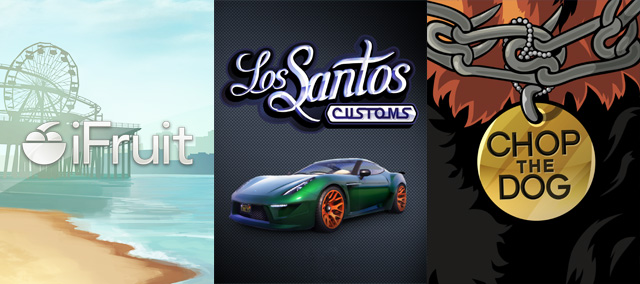 Los Santos Customs – The Los Santos Customs app offers players the freedom to create their ultimate vehicle in Grand Theft Auto V from anywhere. You can create and reserve custom license plates for both Grand Theft Auto V and Grand Theft Auto Online. You can also choose from paint jobs, window tints, smoke colors, wheels, hoods and spoilers. Upgrade your engine, brakes, exhaust, suspension, and accessorize with new lights, horns, tires and body armor. Place your order on-the-go and find it waiting for you in the garage the next time you play Grand Theft Auto V, or send your order in while playing and get a call from your local mechanic to swing by.
Chop the Dog –  Chop is Franklin's canine sidekick in Grand Theft Auto V. Look after him well in the Chop the Dog app and you will reap the benefits when playing as Franklin in Grand Theft Auto V. Pet him, feed and water him, play fetch and tug-of-war, teach him tricks. Too much or too little of an activity, however, will cause Chop to become unhappy, and nobody likes an unhappy Rottweiler. Take Chop on walks and to mark his turf in the hood – defending his ladies, fending off gang members and even protecting the beach babes of Los Santos from unsightly tan lines by removing their bikinis.
Aside from iFruit, Rockstar also released the GTA V: The Manual which is available on iOS and as a desktop app for the PC and Mac.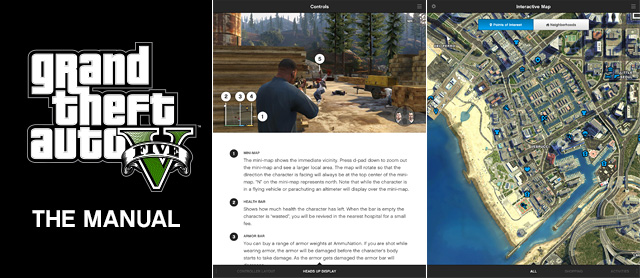 The official manual app has everything from essential and practical Game Controls, Features and Credits info to a tour through the activities and local shops and brands in the game "" and best yet, a special digital version of the game map to zoom in and explore with an interactive legend to browse neighborhoods and points of interest all over the entire world of Los Santos and Blaine County.
These apps are now available for download. Android and Windows Phone users still need to wait awhile though.