In the age of the OFW (or OCW as some might prefer), we are seeing the exodus of more and more Filipinos to so many countries on this planet. There is an ever increasing need to stay connected and the internet (directly or indirectly) is stepping up and taking on that challenge.
Enter Skype. If you don't know what Skype is, I'm guessing you're pretty much as old as my lola (lol!). Seriously, if you haven't been hiding under a rock somewhere, you would know that Skype is software that runs on your PC that allows you to talk to other people who have this same software. Yes, you read it right — Talk. Where you exercise your vocal chords and not your fingers.
It's all well and good for us geeks where things like registering, logging in and clicking are second nature but what about the less tech savvy. Well I may have just found a solution. Read on if you're interested.

What you'll need …

a sufficiently equipped PC that has Skype installed and running
an ordinary phone, even cordless phones work.
a Skype gateway device
Skype gateway …

I'm not going to bore everyone with (1) and (2), so I'll go directly to (3), the Skype gateway.
Voip-info basically describes Skype gateways as "products that allow you to connect non-PC devices to the Skype network". By non-PC devices, it means your regular telephone.
I decided on the USB-B2K. Unfortunately, as far as I know, this device is not available in the Philippines. I could be wrong so post a comment if you know a place that sells this. I, therefore, had to order it online. If you know someone in the US, I think you could ask them to buy it for you and bring it back when they come home for the holidays. I'm sure it'll be much cheaper.
So why the USB-B2k ?
it's the cheapest I could find with the feature set I needed
it's usb powered, no additional adapter for power
it rings the telephone connected to the device when it detects an incoming Skype call
it lets you keep the ability of your phone to make PSTN calls, it just adds the ability to make and receive Skype calls
can be used in both Windows and Linux
Setting it Up …
When the package came, the device was wrapped in plastic inside a brown box. I was disappointed to note that the vendor that I bought it from did not include an instruction manual or a CD containing the software. Luckily there was a lot of information about it on the MPLAT website so within minutes of getting the package I had everything I needed.
I already had skype installed and working on a PC so setting up the device was (dare I say it) a breeze. Here's what I did …
Boot the PC to Windows XP and start up Skype
Download the Skype Mate software from http://www.mplat.com/eng/technic.asp
Plug in an ordinary telephone and the line from your phone company to the available ports on the device.
Plug in the USB cable from the device to an available USB port on the PC.
Let windows detect the presence of the new device.
Install the Skype Mate Software. You'll get a security prompt that Skype-mate wants to use skype, just click Yes or Ok to the prompt.
Reboot for good measure.
After rebooting, assign speed-dial numbers to the contacts on Skype. This is important because the speed dial number is what the user will dial on the phone to connect to a Skype contact.
How to Use …
Your lola will be happy to know that she can still use the telephone to make calls as before. Now, if she wants to call you on Skype, all she has to do is to pick up the phone and then press * followed by the speed dial number and then #.
As illustrated in the pic below, you can also plug in a cordless phone to the device instead of an ordinary phone.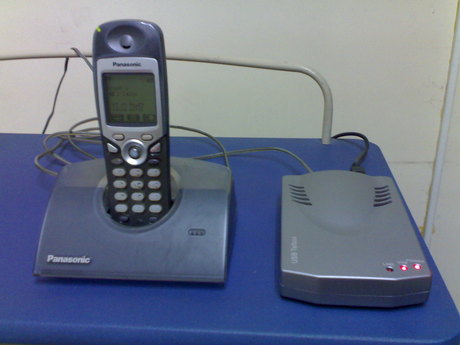 Conclusions and Caveats …
As easy as setting this up and using it is, there are a few things that I've observed and that you should keep in mind before trying this.
the quality of the voice call is good most of the time but it depends mostly on how much bandwidth you have and whether someone's surfing while you're making Skype calls
you need to turn on the PC to make Skype calls but you can make local locals even if your PC is off.
make sure Skype works on your PC before installing this device, it will save you a lot of grief
I guess that's it, your less tech savvy relatives will now have an easy way to keep in constant touch with you over Skype. Of course, that can be a bad thing too 🙂
I'm sure there are many ways to do this, I would love to hear how it can be done with Asterisk or other similar open source software.