The case was sent over to our Supremo and as the hounds that we are, we started fighting who will get to keep… errr… to review this product.
I got the package a few days ago (the one for the 5G Ipod with video) and this is what I got: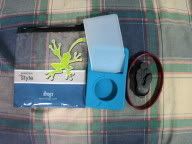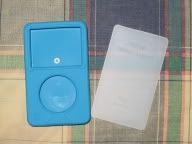 The ifrogz iPod case is actually a three-part system consisting of:
1. Wrapz- the 100% silicon rubber shell that covers most of the iPod, except the click wheel, the screen, the buttons and the ports. As this unit is designed for both the 30Gig and the 60Gig iPod 5G with video, I used the included the rubber filler sleave (the one in translucent white shown above). It fitted nicely and snugly, as shown: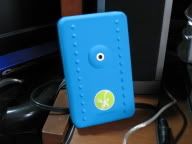 2. Bandz- a band the wraps around the side of the iPod, covering the ports and buttons. A hole is cut through to provide snug access to the earbud plug.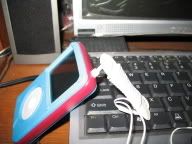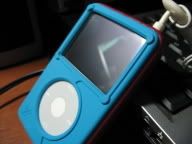 3. Screenz- the protective transparent plastic film to protect the iPod screen and click wheel from dust and moisture. The system uniquely includes decals to cover the click wheel in a variety of designs.
I did not elect to install Screenz for this test, simply because my iPod already had a screen protector (and I actually could not find the plastic film in the package for my iPod).
But since the click wheel is raised at the edges and at the select button, I surmise air bubbles will surely form there.
That's where the decal comes in. Its serves a dual purpose of covering these bubbles and adding more design and personality to your iPod. Ingenious!
And now the summary:
Hits:
Lots of designs choose from

Ability to mix and match for over one million options

Very thick rubber (thicker than the protectors readily available in the market) provides psychological and physical protection for iPod

Cut outs accommodate the peripherals nicely

30G adapter (for 30/60G iPod with video)

The whole system taken together offers superior protection from shock, spills and dust.

Straightforward installation
(Near)Misses:
Wrapz and Bandz holes custom fit for the iPod stock headphone plug. The Sennheiser MX-250 earbud plugs were small enough to fit, though. But the others would not and/or takes extra effort, because their plugs were too big.
No hole in Bandz at bottom to accommodate the iPod Radio Remote, which is my nornal listening mode. But the again, my listening through an iPod Radio Remote is not the usual listening mode.
Belt clip and screw feels unsecure and weak. It feels like it could rip the back of Wrapz. However, it stood up to my testing, consisting of constant detaching and attaching in a real-life mall scenario.
Verdict:
The ifrogs system offers superior protection for your iPod investment compared to the flimsy rubber skins presently available in the market. The great decorative value is a bonus, with enough options to veer you away from (auugh!..) directly modding your beautiful iPod… if all the options are readily available in the Philippine market, of course…